Our January pedigrees & pajamas™ sessions were a grab bag of a little bit of everything genealogy related. How to get started building a family tree. How to collaborate with family members. How to figure out relationships with AncestryDNA® matches. How to document the enslaved in your family tree. How to navigate unindexed record collections. How to use Newspapers.com.
See what I mean.
But, each of these sessions was at the request of current p&p members and I want to keep showing up with what you need. And, each of these sessions was jam packed with loads of tips and tricks. If you attended, please comment below and let us know - what was the best thing you learned this month.
Keep reading for a recap of what we covered.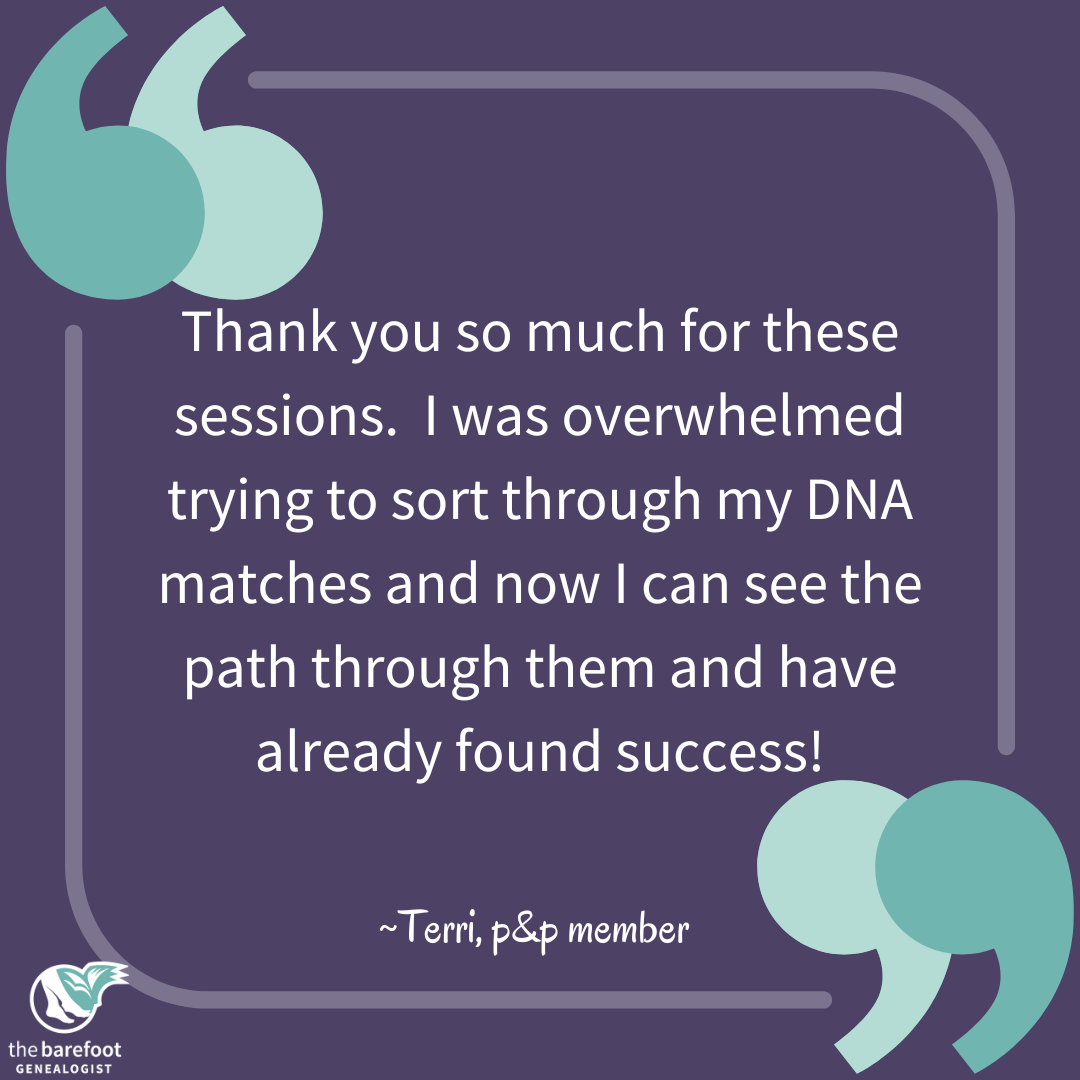 ---
Starting a Family Tree on Ancestry®
Ancestry has a great help article on how to start a family tree. Some people read and then do. Some people just want to jump right in and try it for themselves. But, sometimes it can be really useful to watch someone else do it first. In fact, even if you've started a tree yourself, it can still be helpful to watch someone else. There are always new things to learn.

In the first January session, I started a family tree. (I used one of my favorite CW celebrities since it was fairly easy to find his parents' and grandparents' names doing an internet search.) In the process I also shared some basic genealogy standards regarding names, dates, and places. I shared some best practices for following those Ancestry Hint leaves and attaching historical records. And, we even did a little dive into Newspapers.com. (It's where the really juicy stuff is.)
---
AncestryDNA Collaboration
If you've followed me on Instagram or Facebook for any period of time, you know that every Sunday night (since 2016) my dad and I get on a video call and work on family history together for three or four hours. (And we've only missed four Sundays in all that time.)

Usually, we pull up our AncestryDNA Match Lists to figure out who they are and how they fit into our family tree. We've made some really cool discoveries and we've built our relationship at the same time. A lot of you asked exactly how we collaborate together. So, I invited my dad to join me for our second January session. We worked together, just like we always do and let our p&p members listen in.

We started out by talking about what we each have up on our various computer screens and who is responsible for what as we work together. In this session we also covered how we keep track of our DNA matches with notes and MyTreeTags and color coding. I showed how I use Family Tree Maker to do the data entry. And, we shared some tips for using internet searches and Facebook to find living people.
---
Documenting the Enslaved in Your Family Tree
I did an episode of The Barefoot Genealogist years ago with this same title. My process has refined a little bit over the years but is generally the same. However, this format (deep dive, watch me work sessions) gave me more time to show all the nuances and answer all the questions about the best way to do this with the tools available to use now.
Here is what I covered:
how to navigate wills and probate files (even if the parts you need are unindexed)
which parts of the probate records will include names (and sometimes even ages and relationships) of enslaved persons
best practices for entering enslaved persons into your family tree so they are findable for the descendants
how to use Web Links to connect individuals in non-familial relationships
using MyTreeTags to denote enslaved and enslaver
There was so much interest in this topic that we will be using our first session in February to follow up with how I use spreadsheets to augment this process.


---
If you joined in January and haven't cancelled your membership, these sessions are still available to you on replay. I'll provide links below for quick reference.
9 Jan 2023 - Starting a Family Tree on Ancestry
19 Jan 2023 - AncestryDNA Collaborations Session (w/ Crista's Dad)
28 Jan 2023 - Documenting the Enslaved in Your Family Tree


---
If you haven't joined us yet, it's not too late. For the next couple of weeks, you can sign up for February and purchase the January sessions as a bonus. But, once we get to the end of February, the January sessions will no longer be available for new members. Don't miss out!